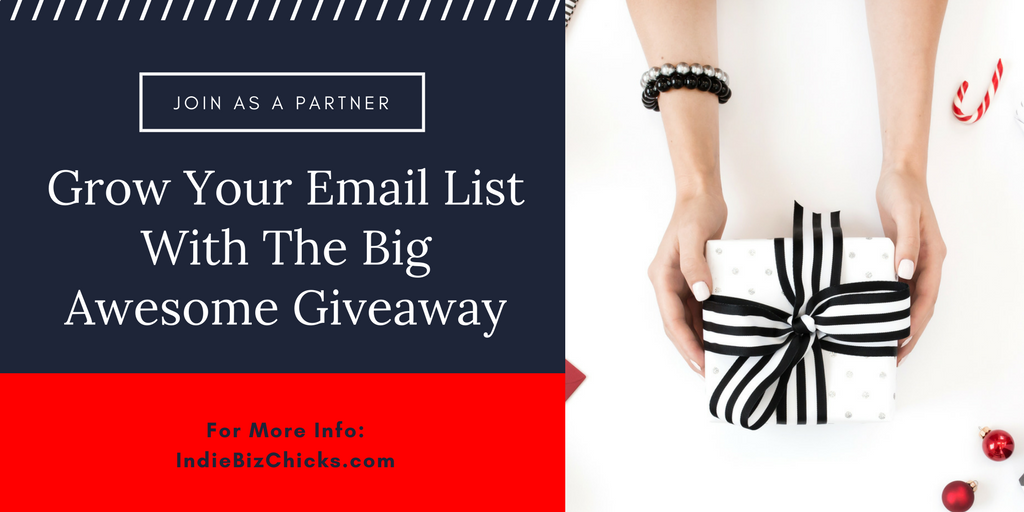 Every so often, I host a fun giveaway event called The Big Awesome Giveaway. I haven't hosted one in a while (since 2016). It's time to change that!
The next Big Awesome Giveaway will be Jan 15 – 29.
I am now accepting partners – and I hope you join in the fun!
It doesn't cost anything to join in.
When you join The Big Awesome Giveaway, we all work together to grow our lists.
I've held these events in the past and have grown my email list by hundreds each time. We all offer a freebie. This can be a digital product of any kind – some examples include: an ebook, a webinar, an online class, etc.
Let's say you're offering a live class on How To Get Organized.
You will put the sign up page on your site. You will send me the link to the sign up page, along with a short description of your freebie, and a photo to represent your freebie.
I'll put that photo and description on my site, and the link to your sign up page. I email my list about the giveaway, and when they come to the page that describes all of the available freebies, they see your class listed, click the link to your sign up page, and register for your class.
Everyone who joins in as a partner to offer a freebie will be promoting the giveaway, so we will all be introducing our businesses to new people and growing our lists when people sign up for our freebies.
When You Join As A Partner, You Are Agreeing To Help Promote The Giveaway.
I ask that you send an email out to your list at least 3 times between January 15 – 29.
I will provide pre-written emails and social media posts that you can use – or you can come up with your own – but I do ask that you help promote the giveaway by emailing your list and sharing it on social media.