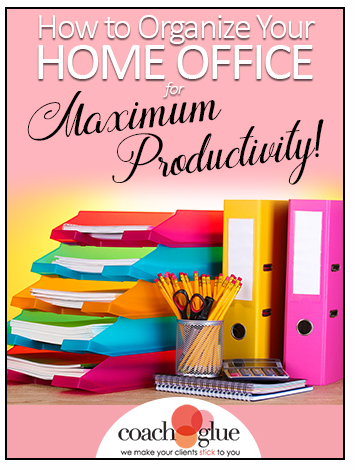 My friends at Coach Glue are running a special deal each day for the first 12 days of December.
Today's deal is the 26 page workbook How To Organize Your Home Office For Maximum Productivity
The Step-by-Step Workbook Covers:
Why You Should Organize Your Home Office
Step One: Make Your Plan
Five Essential Steps to Getting Started
Exercise: My Office Organization Plan
Step Two: "Must Have" Office Essentials
Appointments & Scheduling
Organizing Physical & Digital Files
Company Manual
Desk Space Do's and Don'ts
Exercise: My Office Essentials Plan
Step Three: Creating Maximum Inspiration
Exercise: My Inspiring Office Space
Step Four: Cut Down on Distractions & Inefficiency
Create Checklists
Banning Distractions
Exercise: My Efficient, Distraction-Free Plan
Your clients will LOVE having this workbook they can download or print off.
This is normally priced at $37 – but today only, you can save $20 – and get this workbook for just $17
Click Here To Learn More & Purchase Now
Use coupon code: 2017
*That's my affiliate link, so if you click the link & purchase the workbook & planner, I'll get a small commission. Thank you in advance!