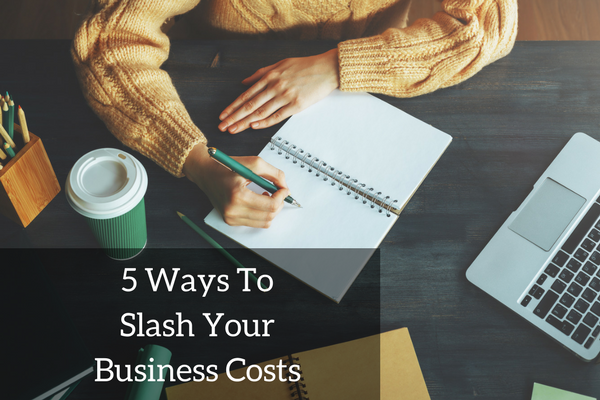 As a business owner, it is almost always an endless goal to increase profitability by generating more revenue. However, several companies neglect other measures they could take to raise profits, such as cost cutting or expense minimization. With that in mind, here are 5 actionable tips that will help you slash business costs, regardless of the industry you're operating in.
Offer Internships
If you're operating at peak capacity when it comes to full-time employees, consider offering internship positions. It's a win-win for everyone involved; the company benefits through paying a salary that is usually below the market-competitive salary paid to a full-time employee, while the intern gains valuable practical experience in their field of choice. Also, interns may cost less for tasks that are normally outsourced to a third-party company or take away valuable hours from highly-skilled staffers (social media posts, filing, etc.). Interns that perform better than expected can be shaped up and trained to take up full-time positions in the future.
Reduce Phone Bill
The single most costly section of a telephone bill is the talk time (minutes). But business VoIP offers a viable alternative to regular phone service by providing convenient features made possible through high-quality infrastructure. Standard solutions include options to auto-attend calls, direct calls to different departments at a specific time, and provide customers with a voice menu so that they can reach their intended contact with ease. Businesses do not have to spend as much money to maintain VoIP infrastructure as communications are transmitted over the internet, which can help owners save a good sum on phone service.
Buy Office Supplies in Bulk
See if you can join other business owners to order supplies in bulk to be eligible for discounts. These could include pre-printed letterheads, chairs, and computer printers. Look into office supply vendors and IT equipment suppliers that offer discounts and reward coupons to loyal customers. Even some dollar stores stock professional-looking supplies and stationary that go well with other office essentials. Compare prices with free home delivery, mail order and office product companies if you plan on spending over a specific dollar amount, to save gas money and time.
Seek Alternatives to Air Travel
While flying into a major airport hub is convenient, you have to spend a lot to enjoy that convenience. Therefore, it's always a smart strategy to explore the expense of flying into mid-sized regional airports that are situated a little far – especially if you're traveling last-minute. However, one important thing to consider is the cost of road or train travel from and to that airport. In addition, scrutinize other means of getting from one place to another, such as buses, if bus routes are a viable option in your country of origin and destination. They often cost less and you'd be able to get a lot of work done before you get to that business meeting.
Optimize Your Mobile Data Usage
Be sure to have an international calling and data plan in place if you travel often. Anticipate the volume of data and minutes you need as well as the next tier up you'd need if you exceed the anticipated usage. The last thing you'd want to do is to negotiate a plan in the middle of your journey. And if you travel often, consider an international minutes and data provider; you may be eligible for discounted roaming and calling rates.
With these tips, you'd be able to cut costs and reduce headaches.