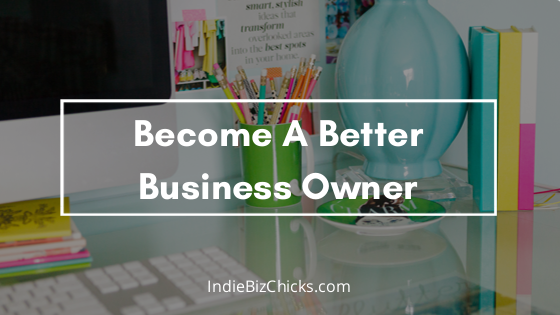 Being in charge of your own business and future is a wonderful thing. However, you'd be very naïve to assume that there isn't room for improvement. Furthermore, the most effective starting point is you.
 Becoming a better entrepreneur will give your small company a far better chance of achieving it's immediate and long-term goals. Use these five simple tips to strengthen your position, and those rewards will show in next to no time.
 #1. Embrace Stronger Team Management
 Every business owner can appreciate the dangers of bad employees. However, it's your responsibility to ensure that this doesn't become a problem for your venture. As such, taking a more active role in those crucial processes is pivotal.
 A positive recruitment drive instantly provides strong foundations. You must take the necessary steps to ensure that communication and team atmosphere levels are at the required standard. It's your business that's on the line, and the influence of the staff will have a telling impact on virtually every aspect. Forget it at your peril.
#2. Become A Better Leader
 Aside from respect for each other, employees need to have respect for you. Sadly, if you aren't an expert in your personal fields, it will be very tough for them to feel that trust. For the sake of their motivation, as well as your own productivity, self-development should be on the agenda.
Completing an accredited online MBA in finance or other business matters will work wonders. You'll become a stronger entrepreneur, and those skills will filter out throughout the company. Better still, those new talents should help the venture stay one step ahead of the competition.
 #3. Appreciate The Importance Of Overheads
 The most common mistake made by modern entrepreneurs is that they spend too much, too quickly. It will take time for your business to thrive, which is why you must control those expenses. Besides, those positive habits increase profit margins for the long haul.
 Seemingly small gestures can make a massive difference to your accounts. Simply finding cheaper energy rates, web hosting, and delivery services will help. Meanwhile, taking a new approach to marketing could generate extra revenue on an even smaller budget. No two businesses are the same, but cost-efficiency will boost your hopes of sustained success.
#4. Put The Customer First. Always
Your company is nothing without customers and realizing this is essential. Furthermore, it's not just about gaining the first sale. If you truly want to gain success, gaining their long-term loyalty is the only solution.
The business will make mistakes, but a strong customer care game will stop this being an issue. Solve consumer problems quickly and efficiently, and they'll continue to trust you. Embrace the idea of rewarding loyalty too, and your entrepreneurial activities will thrive.
 #5. Maintain Good Health & Safety
 Above all business matters, you have a responsibility to keep customers and employees safe. The thought of causing a personal injury is enough to give you nightmares. With the right safety clothing, equipment, and notices, you should be just fine.
 In today's climate, digital security is just as crucial as the physical elements. Employ better data protection, and it will be better for everyone.