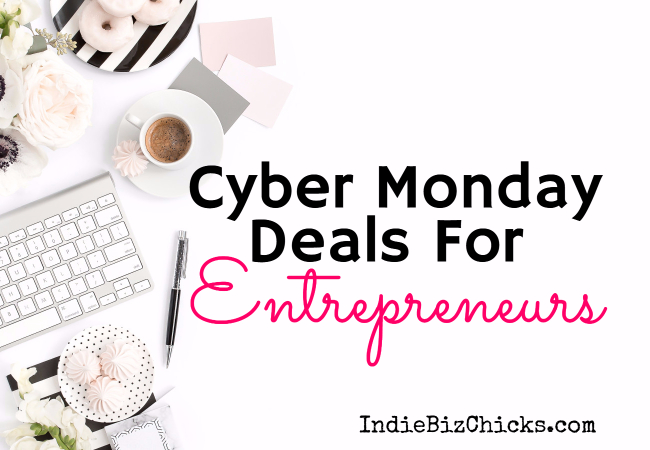 Hey friend! I hope you've had a wonderful weekend. If you're like me, and in the states, I hope this long Thanksgiving weekend was full of fun holiday stuff.
As you know, this weekend is FULL of deals for holiday shoppers. But guess what? It's not just about deals for the things you'll find under the tree… There are LOTS of deals for entrepreneurs, too! I don't know about you, but I LOVE getting biz deals!
I create this list of some of my favorite products and services that are having awesome sales this weekend, and through tomorrow night (Cyber Monday)
Here's my round-up of biz deals:
I LOVE ConvertKit! I started using ConvertKit to send out my emails and newsletters about a year and a half ago – and I'm SO GLAD I made the switch! This year for the Black Friday Weekend & Cyber Monday, ConvertKit is giving away one month of free service to new users and you're also entered to win a year of service! ConvertKit has so many awesome features – like tagging, automations, and more. This is the tool that I use the most in my business, and I 1000% recommend them!
Click Here To Get Your Free Month
*******************************
These are from my friends at Coach Glue. They create pre-written content that you can use as your own. You can edit it and brand it as your own. You can use these as posts on your blog or you can add them to your newsletters, as inspiration for a podcast, Facebook Live, or other video, or you can group them together to create a mini report that you offer as a freebie to grow your mailing list.
You will receive the following 60 blog posts in .doc version so that you can customize them for your own use.
Get More High End Clients:
How Well Do You Really Know Your Ideal Client?

Lessons Learned: What A Lost Client Really Tells You
Need More Clients? Think Like a Farmer
Fear-Based Decisions Are Bad for Business
Sales Tips for Reluctant Sales People
10X Your Productivity:
3 Unusual Places to Find JV Partners
Quick and Easy Website Tweaks to Automate Your Sales Funnel
Common Mistakes That Send JV Partners Running
Automated Follow-Ups Make the Next Step a No-Brainer
How to Systemize Everything
Double Your Traffic:
Get Seen, Get Traffic: Three Ways to Borrow Someone Else's Audience

Outlandish Stunts: How to Drive a Ton of Traffic with Crazy Claims (and Have Fun Doing It!)
The Art of Being Shareable
No List? No Problem! How to Build an Audience with Paid Ads
No Writing Required: Create Compelling, Shareable Content Without Writing a Word
Live Workshop Secrets:
Tips for Having a Successful Live Event

Live Event Planning: Understanding Your Audience
Finding and Hiring Help for Your In-Person Live Event
Earning Money Before, During & After Your Live Event
Attracting Sponsors for Your Live Event
Grow Your List, Grow Your Income:
Mailing List Management: You're Asking the Wrong Question

Anatomy of a Landing Page: How to Improve Your Conversion Rates With Three Simple Changes
Price vs. Power: How to Choose a Mailing List Provider
Improve Your Conversions: Split-Testing Simplified
List Engagement: What to Mail
Create Sizzling Sales Messages:
Seven Surprising Places You're Using Copywriting (And You Probably Don't Realize It)

The Art of the Soft Sell: How to Get the Click Without (Really) Asking for It
Email Subject Lines That Increase Your Open Rates
Copywriting 101: Features vs. Benefits (And How to Know the Difference)
Pain Points: What You Must Know About Your Potential Clients
Sexy Systems for Savvy Coaches:
3 Reasons We Love the "Peek Over Your Shoulder" Style of Coaching

The Hot Selling Program You Can Create In An Afternoon
How to Easily Graduate From Coach to Product Seller
How to Scale Your Coaching Business to Earn Unlimited Income
3 Easy Steps to Creating Your First Product
WordPress Websites:
The Only Website Builder You'll (Probably) Ever Need

Website Security 101: Keeping Your WordPress Site Safe from Hackers
Blogging Basics: How to Get More Eyes on Your Website
Myths vs. Facts About the World's Most Used Website Builder
6 Places to Use Keywords to Make Your Content More Visible
Create Your Dream Life:
Beyond SMART: Goal Setting for Entrepreneurs

More Important Than Money: Understanding Why You Really Do What You Do
Stop Being Your Own Worst Client
Making the Most of Your Time: 5 Productivity Tips Top Coaches Live By
How to Turn a Dream Into a Workable Plan
Making the Most of Live Video:
3 Tips for Better Live Videos

How to Get Over Your Live Video Nervousness
Video: Does It Matter? Yes!
Get More Mileage From Live Video With These Quick Tips
4 Ways to Get More Eyes on Your Live Videos
Self-Publishing Systems for Coaches:
The Power of the Published Author

How to Blog a Book
Book Launch Basics
How to Write a Book When You Have No Time to Write
Book Marketing Made Easy
Leave Your 9 to 5 Job:
Mindset Tricks of Successful Entrepreneurs

Build a Business, Not Another Job
3 Surefire Ways to Create In-Demand Products and Services
How to Have a Stress-Free Business Launch
3 Proven Ways to Market Your New Business
These are normally $27, but you can save $10 by using coupon code: BLOG
Click Here To Learn More & Get These 60 Pre-Written Posts
**************************
100 Social Graphics Featuring Holiday Images For $10
This comes from my friends at White Label Perks. They've put together a big bundle of 100 Beautifully Designed Social Graphics, all with a holiday theme. You get all 100 of these graphics for just $10.
Each image is square, at least 1000 px by 1000 px, packed with a positive message and ready to share on your social media channels, blog or anywhere you'd like to gain a little attention.
Click Here To Learn More & Get Your Social Graphics
**********************
Set Of 3 Business Planning Workshops With Angela Wills
My friend Angela Wills from Laptop Lifestyle Business is offering a set of 3 business planning workshops. Here are the workshop titles and dates:
December 1st at 2pm ET – Lifewheel Planning Workshop to Design a Life You Really Love
December 8th at 2pm ET – Achieve Your Business Money Goals Workshop to Take Actions That Create Income
December 15th at 2pm ET – Sticky Note Unstuck Business Planning Workshop to Make Planning So Much Easier
These are recorded, so don't worry if you can't make it live! You'll get the access to the live workshops PLUS the recordings — all for just $47
Click Here To Learn More & Register Now!
*******************************
75% Off Package Of Your Choice At Piggy Makes Bank
My friends at Piggy Makes Bank create awesome content that you can use as your own. You can get 75% off the package of your choice by using coupon code: BLACKFRIDAY (this coupon is good through Monday night).
Click Here To Pick Out Your Content Package!
************************
And don't forget — my special offer:
I'm going to be hosting a live class on Tuesday, November 28th at 12pm Eastern, which will be about creating a great freebie & landing page.
Growing your list is SO IMPORTANT! This class will teach you how to create a great offer, a landing page that draws people in, and I'll also teach you how to promote your offer to get more traffic to that awesome looking landing page!
Of course, you'll get the replay of the class, too.
I'm charging $27 for this live class … But I'm giving you $20 back in credit to ReadyToUseContent.com
One of the things I'll be teaching in the class is how to quickly make freebies, using content you've already created (blog posts, etc) and using pre-written content that you purchase.
Not only am I giving you $20 back, I'll also promote the freebie you create!
You have to create an offer and a landing page where people can sign up for it, and give me this info by December 15.
When you break it down – this is an awesome Black Friday special!
You'll learn how to create a great freebie & grow your list

You'll get $20
And I'll promote your offer to help you grow your list.
Are you ready to learn more & join me for this?!
Click Here To Learn More & Register Now!
If you have any questions, just reply back and let me know.
Whether the class I'm offering is what you're looking for, or maybe it's the offers I told you about above from my friends, I hope you LOVE these deals and take advantage of them! And by the way — the links above are affiliate links. These are services I use and reccomend. If you click my link and purchase something, I'll get a small commission. Thank you in advance!