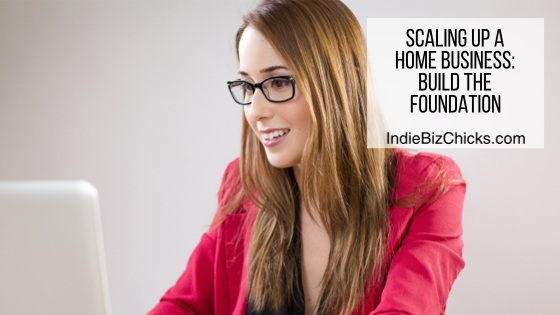 Everyone has their own reasons for starting a home-based business, and many of us reach a size and scale that we are more than happy with. It gives us a comfortable living, more carefree lifestyle, and an excellent balance between work, free time, and even looking after the kids.
But what if you have more ambitions for your business, and want to see it grow beyond the home office? If you envisage a point in time where you scale up a business to new heights, it's important to lay the foundations at an early stage.
Ultimately, if you decide to grow without putting the basics into place first, you risk sacrificing a lot of time, effort, and profits while you put your new ideas into place. Let's take a look at laying the foundations for a scalable home-based business.
When you start your initial business, you might have some all-encompassing ideas. Let's say you are a freelance copywriter with a background in marketing – you might position yourself as a complete marketing all-rounder, including strategy, blogging, direct response mailing, SEO, brochures and everything else bars the kitchen sink. But let's be honest, how many of those areas can you truly have expertise? Positioning yourself in one or two niches will make you more appealing to those that need your services, and over time you can begin to specialize in other areas, too. Start small, learn everything for one subject, before working your way to the next.
Let's assume you have a blog as the basis of your business. In the early days, you might be happy with a few hundred visitors every week, but as your blog grows in popularity, you could be looking at thousands in the not-too-distant future. With this in mind, you need to choose a cloud-based web host provider that can scale up alongside your needs. Switching hosting packages at critical times will lead to some different issues while using a cloud-based hosting package means is is a much simpler process. Plus, of course, you will only have to pay for the bandwidth you need.
Another interesting way of scaling your business – without the capital risk – is by joining forces with other complementary services in your local area. Let's say you are an SEO specialist. You might team up with a copywriter to help you satisfy the needs of a client's audience, as well as the search engines. Or you could align yourself with a conversion specialist to offer potential customers a much broader level of service. Who knows? Perhaps you will find yourself creating a brand new company that has the potential to engage a much wider base of clients?
One thing you will need to learn about your business is that it is a lot cheaper to sell to current customers than it is to attract new ones. In fact, it can cost you up to six times more to find new clients than it does to engage your current batch. And make no mistake about it, this will become an important habit to get into if you intend to scale. Your cost of sale will be a major factor in your success, and if you work on keeping this as low as possible in the early days, it will improve your profits long into the future.