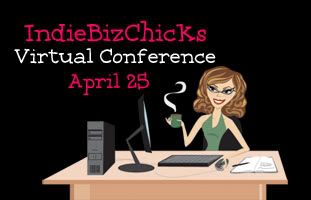 Do you ever wish that you could get insights on running your biz and managing your life from some awesomely creative and crafty women?
If you answered "Yes," then you need to check out The IndieBizChicks Conference!
This will be April 25 – and you do not need to travel. This is a virtual conference — all the sessions will be delivered via conference call, and they will also be recorded. If you can't make a live call, you can listen whenever you like.
Here are some of the things we'll be discussing:
Shifting Your Business Plans with Christy Nelson of ChristyNelson.net
Harnessing Pinterest Power For Your Business with Simone Collins of FaveCrafts.com
Creating An Online Community with Rachel Johnson of Swap-Bot.com
Productivity with Rosalie Gale of UnaminousCraft.com
The Benefits Of  Owning Your Own Site with Jennifer Rapp Peterson of IndieMade.com
The Importance Of Newsletters with Angela Wills of MarketersMojo.com
And that is just the tip of the iceberg! There will be 10 sessions total – all from very creative, crafty women. Trust me, you can learn A LOT from them!
Click Here To Register Now for only $25.