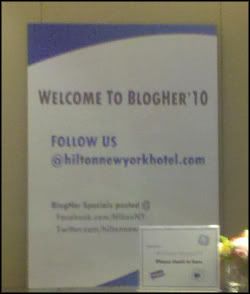 This was a big weekend! And this is going to be a big post. So bear with me. I have a lot to say (and show you). On Thursday, August 5, I flew to New York City with my friends Beth & Lish to attend BlogHer. In a word, it was amazing. But I know you want more than one word. So, here we go with more deets!
When we got to the hotel (The Hilton New York) we were greeted with a Welcome To BlogHer10 sign. The lobby was also full of women. Check-in wasn't scheduled until 3pm and women were arriving well before noon. There were shrieks and sounds of enthusiasm as women met up with their friends from all over the globe. The majority of these women met each other online – and here they were in person. That in itself is a big deal.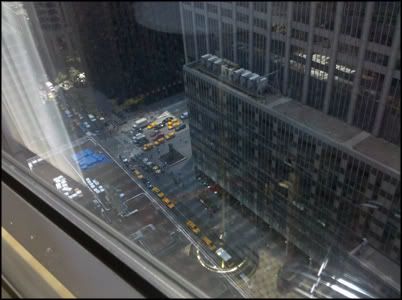 We were lucky enough to get an early check-in around 1pm. We were on the 27th floor. This is what New York looks like from up there.
That night, the three of us went to the Etsy headquarters where we participated in the Crafty Blogging Panel, along with Amy Schroeder, Rachel Johnson and Tonya Staab.
This was definitely the highlight of my trip. And I know it is not BlogHer related, per se, but it was an awesome experience! We had a live audience of people who came in person, as well as those who watched from the Etsy Labs
online. The panel was more of an open discussion than a "lecture" – with lots of audience feedback and questions. It was like a great conversation – all about business & blogging!
Friday morning was the official kick-off to the BlogHer Conference. I wish I had taken more pictures of the breakfast, both  keynotes, sessions, and expo. But there were so many people, so many things to do, and so much going on that I kind of forgot to stop and capture it. Sorry! But I can tell you about it!
The breakfast was sponsored by Tropicana, and they did an awesome job! There were many items to choose from, but I opted for a ham and egg croissant, fresh fruit, coffee and juice.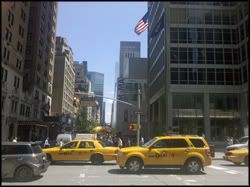 Bruce Jenner was there, pouring juice and taking pictures, and even though I'm a fan of Keeping Up With The Kardashians, I didn't go up and talk to him. Like I said – lots to do and too little time!
The first session I went to was about the FTC guidelines. I learned some surprising facts. I was under the impression that the FTC could fine bloggers who didn't comply, but I was told that wasn't true in the session. They also stressed that these were guidelines, not laws.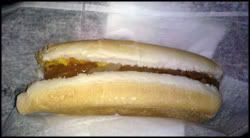 After that, we had lunch, which was an awesome display of sandwiches, salads, fruit, and various desserts. We also roamed around one of the Expo halls for a little while. BlogHer is known for its swag, and yes, there was lots of it. LOTS of it. Two expo halls of it, plus a swag bag at registration plus room drops.
It would be impossible to write about every single piece of swag that I got, but I will go over some of the highlights:
Proctor and Gamble really outdid themselves and created a "Proctor and Gamble House" which you could walk through and learn about their products.
They gave out samples of Tide and Downy in the laundry room, demos of an easy to attach Pur filter attachment, had an interactive demo of a man sneezing through a regular tissue and then showed how the Puffs tissue couldn't be sneezed through. There was also a room with Febreeze and Swiffer samples. I received a new type of NoticeABLE from Febreeze that does not need to be plugged in.
After I got home yesterday, I set it up in my living room. I had to leave for a little bit, and when I walked in my door, I noticed the scent and how nice it smelled. But it's not overpowering and doesn't make my eyes water when trying to watch TV.
P&G also handed out a gift bag with lots of beauty items, including a Venus Razor (I tried it today and it does make shaving your legs easier), as well as full size samples of Secret and Oil of Olay products, which I haven't tried yet, as well as a nice size sample of their Eukanaba kitten food for Franny.
The Quickie booth featured The Real Housewives of Orange County star Tamra Barney. I love me some Real Housewives, so I did stop by to talk to her for a moment. Ecco was giving out pedicures but I didn't make an appointment in time, and Propel had chair massages, but again, I was too busy going to sessions, so I missed out on that, too.
But of course, the expo halls and suites are not just there to hand out swag. This is the chance to meet with the brand managers and PR people from these brands. They want to work with bloggers. They understand how much power bloggers have, and they want to be in front of these blogger's audiences.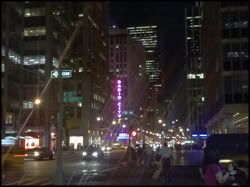 Yes, there are going to be lots of bloggers who simply write about the swag and the brands are going to get a lot of  publicity. But savvy bloggers go there to begin relationships with these brands and work out deals with them for sponsorships and incentives.
I talked to lots of brand people while I was there, walking around the expo area, as well as at meals. All of them were very nice and asked questions about my blog and what I wrote about.  They were all very enthusiastic and one of them said they had heard about me at the EVO Conference.
However, the PlaySkool rep I talked to was a little less than enthusiastic to speak to me. As soon as I told her that I blogged about business and told her I did not have children, she got a look on her face that clearly said I was wasting her time. I am sure that she went there to talk to mommy bloggers. That makes total sense.
But guess what? Just because I am not a mommy blogger doesn't mean I should be discounted. I have nephews, and I gave my younger nephew the Mr. Potato Head and Play-Doh swag I received from PlaySkool. I might not sit around writing about PlaySkool products on my blog, but I DID post pictures on my Twitter and Facebook of Trenton using the Mr. Potato Head parts to create a disguise for himself.
So,while I don't have children myself, I am clearly writing about PlaySkool in this post, and I did show pictures of a child I am related to playing with their product. And while I don't have the most popular blog in the universe, I get a nice amount of traffic, have a very nice sized Twitter following, and yeah, I am known on Facebook, too.
I mean, seriously, where does the PlaySkool rep think mommy bloggers go to read marketing tips? The Wall Street Journal? No. they go to MY site. She should really think about that the next time she feels like rolling her eyes at me.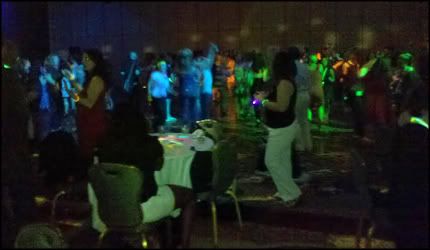 Okay – back to the conference itself! Some of the other sessions I attended were on the topics of intellectual property law, giving advice online, using social media to brand yourself, monetizing your blog, and pitching yourself to PR reps. I can't really say that I learned something at each session because I am already an experienced blogger who knows how to brand myself and make money with my site. But it did give me a chance to hear other people's opinions on the subject and hear questions from people who were new to those topics.
BlogHer is also known for it's parties. I went to several of them, but I must say the highlight was the Sparklecorn party. There was unicorn glitter – and a unicorn cake, courtesy of Charm City Cakes. You know – from the Food Network show Ace of Cakes!!!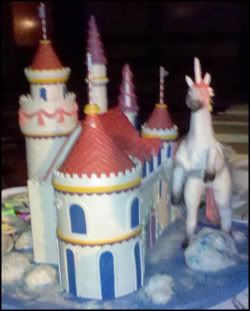 And let me say that they make some awesome cake!! It was a vanilla cake with a layer of peanut butter and jelly between the cake layers and a rich vanilla frosting.
One of the most "famous" BlogHer parties is the CheeseburgHER party. If you Google it, you can read the history and how it got it's name. This year, the organizer asked my friend Lish to make the CheeseburgHER bed. Beth spent about 10 hours helping her. Here are some photos of the bed getting set up and the finished product, which I think turned out super cute!
Some of the other highlights of my New York City weekend include eating my first New York City hotdog, walking to Times Square on Friday night with Beth, walking to Central Park on Saturday morning, and, just being in New York!! I mean, it's NEW YORK CITY!! What's not to love?
Overall, I give my BlogHer weekend a rating of 10 gold stars. It was a lot of fun, I got to meet several people I know from Twitter / the blogosphere in person, I got to meet a lot more that I had never heard of, and most importantly, I got to feel the energy of all 2500 or so bloggers in attendance!
Some of these women are "rock stars" in the blogging world, with millions of readers. Some of these women were just getting started and had 2 readers. Others are somewhere in between. But they are all blogging! Because they WANT to. And that is pretty freaking cool.