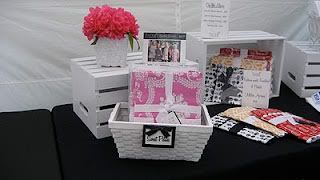 The following is a guest post from Debbie Bertrand of The Hip Hostess
Starting your own business and launching a website can be intimidating and stressful to say the least. The darling daughter and I did both in 2008, offering up a collection of fashionable aprons.
To get our new endeavor off the ground, get our name out there and most importantly, improve our cash flow we took our show on the road selling our hip little aprons at crafts shows & festivals.
Two years later we've done more shows than we can count and have made more than our share of mistakes but now look at them as lessons learned.  Selling your work at shows, markets and festivals is an ideal way to find out which of your products are hot sellers, create a buzz about your brand, and definitely increase your bottom line. So here's our take on tips, tricks and things we've discovered along the way.
Hands down, flat out the most important element of selling at craft shows & art fairs is the first impression you give. Potential customers will come upon your space and decide within seconds whether to stop or pass it by. You always hear: Be Unique. Set yourself apart from the competition.
True.  But I think the key word here is "intriguing". As potential customers walk by, your goal is to immediately spark their interest and draw them in. In other words, make your space irresistible!
Presentation is Everything!
And everything is visual. Make your packaging pretty. The most beautiful products may be glanced over if they're not visually appealing. Chances are most of your customers will probably be female so going  for a look with feminine appeal  is the right approach.
Try to think outside of the box when it comes to displaying your work. Look for inspiration at second hand and thrift stores and remember everything can be transformed with a fresh coat of paint. Check out entertaining and party blogs for ideas on tablescapes, and simple DIY projects. Even fashion and home décor magazines and websites can be used as great resources for setting up your space.
Hang a pretty pennant of fabric triangles with the letters of your company name stamped on each one. A definite eye catcher.

Buy or make your own paper pom proms to hang from your tent or tuck a few small ones here and there on your tables. Instant pizzazz!

Simple wooden crates from the craft store can give you needed height for tables or floor displays. Paint them to match your color theme and set them horizontality and vertically to create charming displays.

Jewelry and accessories look absolutely adorable hanging from pretty wire birdcages.

Add a touch of elegance to your space with small glass cylinders or square vases filled with water and single floating blossoms. Little effort, big impact.

Think about using cake stands, appetizer trays, and martini glasses to display jewelry, spa products and accessories.

Use old dresser drawers set upright & fitted with cup hooks to hang products or set flat to display other items.

Place spa or bath & beauty products on a bundle of rolled towels tied with ribbon or set on dressing table trays.

Almost everything looks lovely in vintage suitcases, hatboxes and jewelry boxes.

Candles are a cost effective way to create ambiance.
Try to place something super eye catching at the front of your space inviting people to come in and see more. Your best seller, or your prettiest product, whatever creates a Wow factor and makes a big impact!
We set up mannequins sporting matching Mother / Daughter Aprons and an easel board titled "On the Menu" listing our products & prices.
People are often hesitant to ask questions, especially "How much is this?  So try to have all your products clearly tagged. If you have too many products to tag them all, then signs are a must.
Place small signs throughout your space with product info and prices.

Display signs offering specials or discounts.

If you offer credit cards make those signs very visible.

Place your signs in clear acrylic frames, or if you want to get more creative use pretty picture frames and easels.
If it fits in your budget, have a custom banner made with your business name and or logo to display at the front or back of your space to add an element of professionalism. Most office supply stores offer this service and it's fairly inexpensive. Adding a tag line will instantly identify who you are and what you do.
Customers love to feel they're getting a bargain, especially in this economy. Try to get creative with special pricing.
At our very first show we offered "Buy 2 Aprons and take $10 off."  It increased the volume of our sales dramatically. Yes, we could have simply taken $5 off the price of each apron, but the concept of $10 off was so irresistible most customers bought 2 Aprons! We used that offer at all our following shows.
Other options might include:
Buy 1 get one half off

Buy 3 get one Free

Buy 2 take $___ off

Offer a "Show Special" on one particular product.
Don't forget to use signage throughout your space to promote your specials!
Here's the bottom line: you want to get paid. Cash is obviously preferred, but you may also want to consider accepting checks. In all the shows we've done, we have yet to have a check returned, but that's an option that's totally up to you.
If at all possible, get yourself geared up to accept credit cards. Customers don't always carry around a lot of cash, and you may be giving up a great deal of sales if you don't offer credit card transactions. There are numerous credit card processors than can get you set up and walk you through the process. It's not as difficult as you may think and is worth every bit of the cost. If you plan to do a great deal of shows you may want to invest in a wireless credit card terminal. If this is unfamiliar territory to you ask other vendors who they use for credit card processing and if they are satisfied.
You're the "Hostess of the Party" and this is your time to sparkle & shine! You need to be fresh and alert so if there was ever a time to caffeinate yourself, this is it! Especially if you tend to be the timid type.
Open up the conversation with a friendly Hi! and a cheerful smile. Start by asking a question or commenting on …the cool scarf they're wearing, that fabulous purse they're carrying, something they've purchased at the show. You get the idea.
Taking a genuine interest in people immediately makes a good impression and chances are, will spark an interest in your product.
That's the time to fill them in on your work and your products, but keep it short and sweet. No one likes a pushy salesperson.
Customers like to touch, feel and get up close and personal when considering a purchase so be sure to offer them the opportunity to try it on or try it out, if possible. Mirrors are a must!
We've had the pleasure of meeting the most delightful customers and enjoyed a lot of interesting conservations with people just stopping in. Even if they didn't buy from us, some of them have passed our name on to friends and family. Voila! Another sale.
Yes, it's going to be a long day but try to resist the temptation to wear comfy sweats. You are in business and want to convey a polished professional image. You don't have to be dressed to kill, but you should be dressed to sell!
Stash all your overflow of inventory & supplies out of sight. This is where having floor length tablecloths comes in handy. Make sure to re-fold, re-hang and tidy up your space between customers. You always want your space to look neat & fresh for the next customer. If you have duplicate products, try to only keep out one of each. Sometimes displaying too much product can be overwhelming to potential customers. Generally simple is best and there's something to be said for "Exclusivity."
Put your business name on everything possible, including tags, bags and receipts. People that came through your space but didn't buy may think of you later and will need a way to remember you.  Promotional products can be a useful marketing tool. If your target customer is female, nail files, lip balm, candy, or notepads will not be tossed way and will keep your business name on their mind.
We passed out lip balm for most of our shows and had a lot of customers come back to our website later and place orders because of they still had that lip balm in their purse!
Always have plenty of stock.
We completely sold out of inventory at our very first show.
Driving 200 miles round trip overnight to replenish stock for the next day taught us to be more optimistic.
Keep an emergency kit on hand.
As they say…stuff happens. You never know what desperate is until you're frantically in need of double-stick tape, a stapler, glue, or safety pins. It's not the end of world, but sure feels like it at the time.
Be stingy with the business cards.
Passing out business cards to tons of people is fine, but chances are they will inevitably be tossed. That can get costly. We found that small flyers printed on 3×5 card stock with all our business info and offering a discount or Promo Code worked much better. This can be especially effective if you have a website with online shopping. We always kept business cards on hand for those customers that asked for it.
Talk to other vendors and find out which shows are hot, and which are not.
We once spent an entire day under a sweltering tent in 102-degree heat with absolutely no traffic.  None. We packed up and did not return the next day. Some shows are just not worth your time or your effort.
Keep in mind that some people will spend half an hour in your space chatting away and never buy a thing. Though you may wonder why, or think it's a waste of your time, it may have been the bright spot in that person's day. It's what makes the world go around.
Cheers and wishes  for a wonderfully successful selling season!