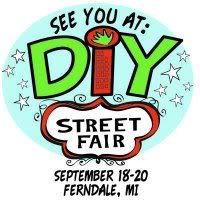 I'm a Michigan girl and I love to promote cool stuff happening in my state. This weekend, Ferndale is hosting The DIY Street Fair.
As they say on their website, " The DIY Street Fair is a free 2-day, 3-night event in Ferndale, Michigan where local artists, crafters, businesses, groups and organizations, musicians, restaurants, brewers and others who live and work with a do-it-yourself ethic converge for one big celebration. The event showcases the immense creative energy, independent spirit and innovative talent that can be found throughout the area."
You can check out the music on the main stage (featuring one of my personal favorites, Lucero, as well as some of Michigan's best, including The Hard Lessons.) The music is free, but don't forget the self-produced and/or self-released CDs and merch from the acts will also be for sale (so buy some!).
You can get some early holiday shopping done – or buy things for yourself in The Marketplace, which features 80+ local artists, crafters, & entrepreneurs. There is a Beer Garden featuring Michigan crafted beers, as well as Restaurant Row, where local chefs will be cooking all day long. If you have children, you'll enjoy the family-friendly Kid Zone, featuring musicians and street performers, as well as hands-on projects kids can enjoy.
For more information, vendor list, musical line-up and show times, etc visit them on the web at: https://diystreetfair.com.
Carey Gustafson, who was featured in yesterday's CraftBoom! crafter profile, helped organize the event. She will be holding down the Handmade Detroit booths with Lish Dorset. Next to them will be the Reware Vintage booth, featuring Beth Nixon, one of the CraftBoom! crafty profiles from a couple weeks ago. I'll be helping out at the Reware Vintage booth all day Saturday – so if you are in the area, come out and meet all of us!