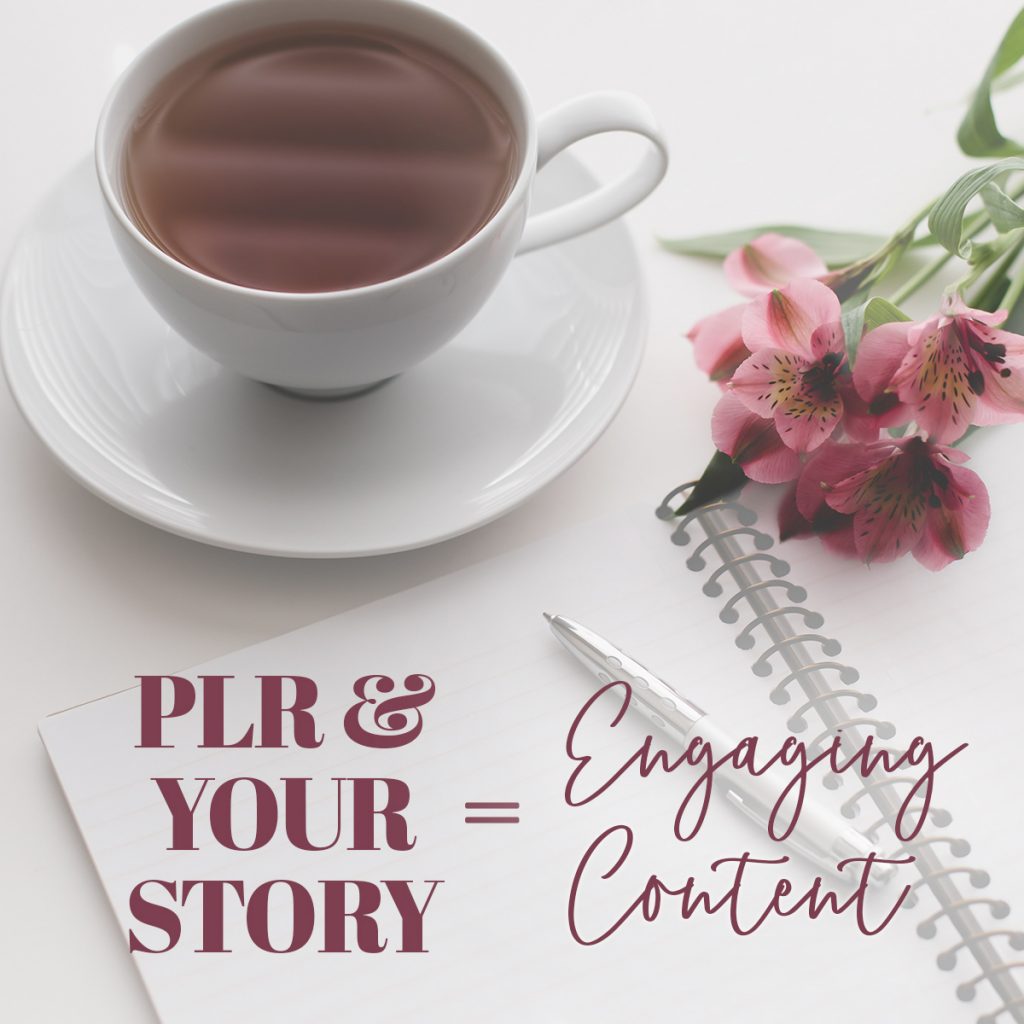 When I opened the PLR pack, I was disappointed. The content was informative and helpful. I knew I'd share it with my community, and it would serve them. But I wasn't invested in it and I wondered why.
After reviewing all of the PLR I'd downloaded, I realized the problem wasn't the information or the writing. There was no personal connection to the content. It needed a story to really come alive…
Why Include Stories in Your PLR Content?
Editing your PLR to include stories has several important benefits for your business. It makes the content personal and keeps it fresh. It also entertains your readers and captures their interest.
The truth is when you buy PLR, other people may also be posting or recording the same content. But if you include a personal story, you'll stand out readers' minds. They'll remember your story long after they've closed the browser.
How to Include Stories in Your PLR
Once you understand the importance of stories in your content, it's time to use them in your business. But if you feel a little bit overwhelmed, here are a few tips that will help you on your way…
Choose relevant stories.
Look at the content and decide on a relevant story from your own life. If you've purchased PLR content on the topic of blogging, don't share a story about your search for the perfect nail polish color. It's unrelated and will likely annoy your visitors.
But if the content you're publishing happens to be about nail polish, then your search for an ethical company with beautiful hues of polish is likely to be useful to your audience. In fact, they'll love you for sharing about your own journey!
Don't try to be perfect.
When you do show up in your content, you don't necessarily need to have it all together. If your PLR is on the topic of parenting, it's OK to share about that time you had a meltdown on your kid.
Stories that show your flaws, mistakes, insecurities, and weaknesses are powerful. When you share the vulnerable moments, you create a connect with your audience. They read your story and think, "Wow, she's just like me!"
Consider your brand.
Before you post a story with your PLR, pause and consider if there are details you might regret later. Sure, you might want to go off about how far you are into debt and how it's impacting your everyday life.
But if you're also presenting yourself as a money coach for entrepreneurs, you may have difficulty attracting new clients. The words you say and the stories you share can create a disconnect between your branding if you're not thoughtful.
Get permission (if needed).
Maybe you thought it was a funny story about a client interaction, but would your client say the same thing? Or would they feel a little hurt and betrayed that you posted that information online without their knowledge or consent?
Sharing stories about yourself is one thing. Sharing stories about clients, family, friends, and others you know in real life is a different ball game. Don't publish content that could negatively impact your personal or professional relationships.
Wrap it up.
When you share a story, include the ending. Imagine reading an article that opens with the moment a woman discovers her spouse is having an affair. Then the writer discusses steps to take after learning your partner is having an affair.
But the author never circles back to the opening story.
If you're like most readers, you'll feel cheated and upset. You wanted to know how the story ended. Did she leave the cheating spouse? Did she reconcile? If so, are they still happily married?
You don't have to wrap a bow on every story you are share. But do give enough information that readers sense the story is finished. Otherwise, they'll just feel annoyed with you.
Invite conversation.
At the end of your content, encourage your readers or listeners to share a story from their life or business. When your audience responds with their own stories, you create social capital.
You move from someone they merely "like and know" to someone they "trust and engage with". This is when the stage is set for you to make a compelling offer so they can join you mailing list, follow you on social media, or purchase one of your products.
You can invite conversations by simply asking them a question. If your content was about temper tantrums, ask parents to share their kids' worst public tantrum and watch the responses.
Are You Ready to Start Creating Stories?
Now that you understand the value of a story, you can begin adding them to your content. But first, you need to grab some PLR content that you'll be proud to share with your community…
Along with my friends Kelly and Sam, I create PLR over at White Label Perks. Since you're a friend of Crissy's, we'd like to give you a $10 gift card to our site (just use coupon code: CRISSY).
You'll find content on many popular business building and self-development topics plus exciting "mini" bundles. It's easy to jumpstart your content creation with PLR from White Label Perks!