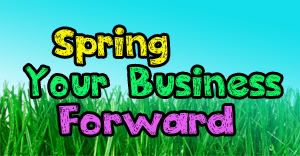 Are you ready to spring your business forward?
I have got some GREAT free business training for you- and it will help motivate you to work hard and push yourself towards your goals!
Each day, from March 12 – April 10, you will get a daily business tip via email, and you'll also be invited to live, weekly business calls, where I will tackle subjects such as blogging, creating new income streams, time management, finding motivation, and much more!
All of the training is free! All you need to do is sign up below, and you'll be registered for the business tips, weekly calls, and special surprise bonuses!